W6IWI RTTY Notes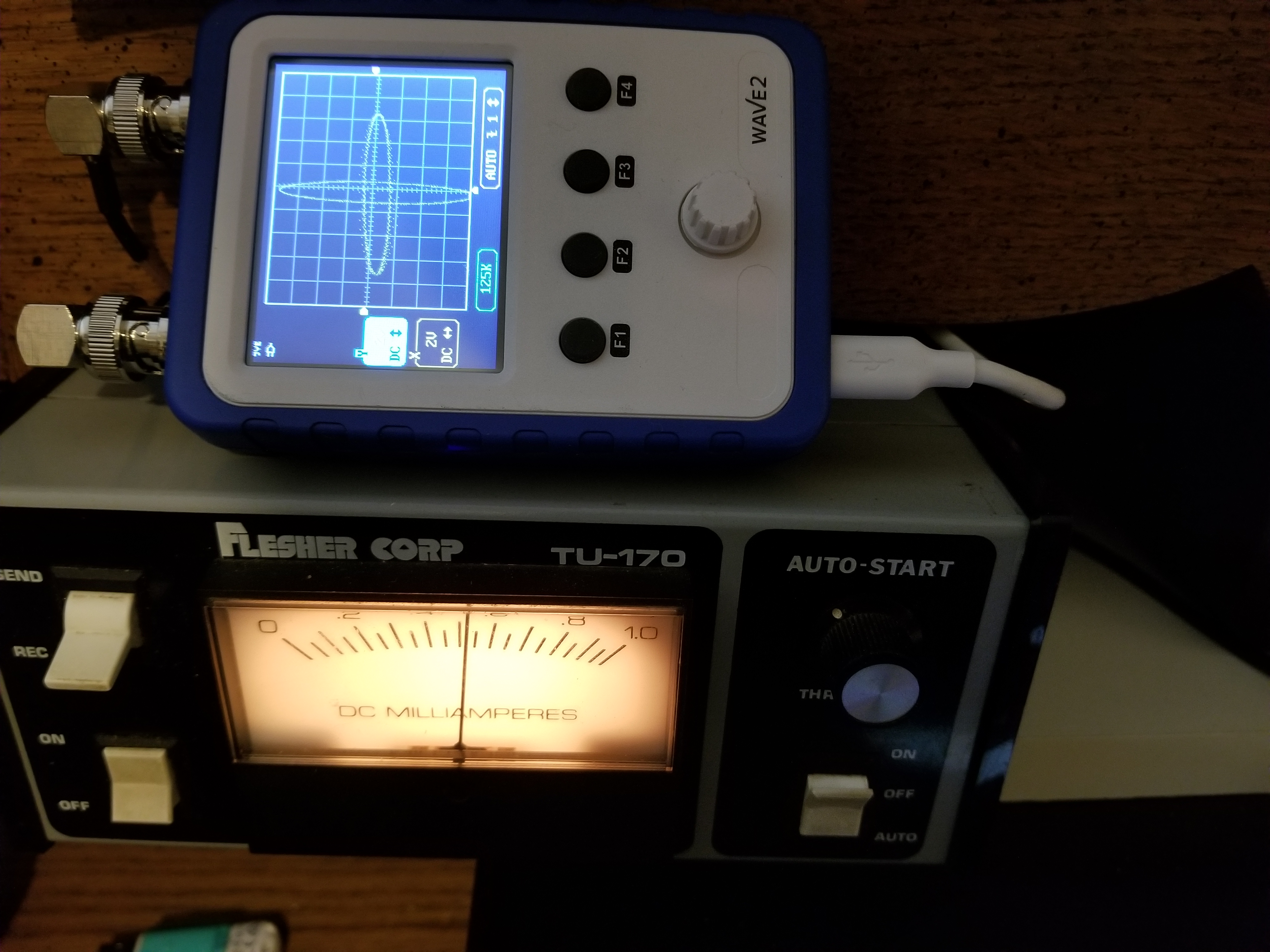 The photos above show the RTTY hardware. The left photo shows, left to right, the Teletype model 15KSR printer (Signal Corp order number 14700-PH-49, serial number 793), the model 14 Transmitter Disbributor (tape reader), the loop patch boxes, and, on the right, the model 14 Typing Reperforator (Signal Corp. order number 3357-PHILA-52). The last two digits of the order number indicate the fiscal year of the order. Therefore, the printer was delivered in about 1949, and the typing reperf in about 1952. The middle photo shows the loop patch boxes. Each is a 4x4 electrical box with a blank cover. Four 1/4 inch Tip Ring Sleeve jacks are mounted on the blank covers. The jacks have a switch that shorts tip to ring when nothing is plugged in. The tip and ring connections are all wired in series. The box marked TU is connected to the Flesher TU-170 Terminal Unit. Any device plugged into one of the jacks on this box is inserted into the loop driven by the TU. The model 15KSR printer and 14TD are typically plugged into this loop. The other patch box is driven by a 152950 loop supply with series 2.2 k current limiting resistor seting the loop current to 60 mA. The right photo is the Flesher TU-170 Terminal Unit with a WAVE 2 scope on top as a tuning indicator.
When not being used for something else, the station is on the Green Keys autostart frequencies listed below.


| Frequency Type | Day (MHz) | Night (MHz) | Notes |
| --- | --- | --- | --- |
| Mark | 14.083,875 | 7.083,875 | |
| Space | 14.083,705 | 7.083,705 | Space is 170 Hz below Mark |
| US LSB | 14.086,000 | 7.086,000 | Mark tone 2.125 kHz, Space 2.295 kHz |
| US LSB low tones | 14,085,150 | 7,085,320 | HAL ST-6000 low tones. Mark 1.275 kHz, Space 1.445 kHz |
| Center | 14.083,790 | 7.083,790 | Shift up 85 Hz for Mark, down 85 Hz for Space |
| Navy MMM LSB | 14.085,490 | 7.085,490 | Mark tone 1.615 kHz, Space 1.785 kHz |
| Navy LF LSB | 14.084,790 | 7.084,790 | Mark tone 915 Hz, Space 1085 Hz |
| Europe LSB | 14.085,830 | 7.085,830 | Mark tone 1.955 kHz, Space 2.125 kHz |
For 850 Hz shift, there is the Military Net on 7089 kHz center frequency, mark low. So 7088.525 mark, 7089.425 space. That's 7087 USB with 2000+/-425 tone as per military standard. 0900 EST on Saturdays.
Resources
Green Keys mailing list. A bunch of Teletype enthusiasts!
Internet Teletype - Three AFSK streams to feed your Teletype!
RTTY Audio - Test signals received on the KFS SDR exhibiting fade and noise. Use to test terminal unit demodulators.
RTTY Sub-Bands - Suggested operating freqncies.
The New RTTY Handbook - Scans from The New RTTY Handbook, 1971
RTTY Journal - The RTTY Journal was first published by the Southern California Radio Teletype Society as the RTTY Bulletin in January 1953. Over the years, the name has changed to RTTY Journal, RTTY Digital Journal and The New RTTY Journal.
ARTS Bulletin from the Amateur Radio Teletype Society.
The Teletype Story - 1957 brochure describing the history of Teletype Corporation.
The Start of Amateur RTTY - EXCELLENT history by Jim Haynes.
Heavy Metal RTTY. My presentation to the Boat Anchor forum of the Long Island CW Club and the Radio Society of Tucson.
RTTY Electronics, P.O. Box 20101, El Sobrante CA 94820. Phone +1 510 222 3102. Email mr_rtty@pacbell.net. EXCELLENT source for Teletype parts. photos, video

Loop Supplies

| | |
| --- | --- |
| 152950 150ma $20.00 - This is the supply I am using on a local loop. It is a small open metal chassis with a transformer, a couple silicon diodes, and a capacitor. It has a D-hole that accepts an HKP fuse holder. I added a fuse holder, a line cord, and a terminal block for the DC output. When driving the loop, the voltage is 125 VDC. A 2.2k 10W resistor sets the loop current to about 60 mA. The voltage across the resistor is 122.7 VDC for a loop current of 55.8 mA. | |

162361 500ma $30.00
REC29 200ma $35.00

Teletype model 14 Transmitter Distributor
Teletype model 14 Typing Reperforator
Teletype model 15

Ribbon Re-Inker Kit - My notes on the re-inker kit.
Cleaning type slugs
Teletype Videos - Great series of videos on how a model 15 works
Sychronous Motor Measurements - The mechanical load on the motor varies with machine adjustment (such as clutch tension) and lubrication. There is more load on the motor when the machine is idling since the clutches are slipping. Here are the measurements on my model 15. The "running" column is with the space bar held down so the keyboard and printer clutches are released.

| Measurement | Idle | Running |
| --- | --- | --- |
| Current | 2.5 A | 2.48 A |
| Power | 79 W | 70.5 W |
| Apparent Power | 297 VA | 293 VA |
| Power Factor | 26 % | 24 % |

RTTY RATT Radio Teletype - Extensive historical documents at Southwest Museum of Engineering, Communications and Computation - Includes copies of the journal of the Amateur Radio Teletype Society going back to 1946, a history of HAL Communications, and lots of other interesting info.
Paper
Paper Tape - 11/16 inch paper tape for model 14/19 reperforator
Ribbons - Same ribbon used on model 14 typing reperf and model 15 page printer.

Swartz Ink SI-83-BKTE, also on Amazon, package of two (each includes two reels and reversing rivet), $7.00 + $4.99 shipping. The inking of these ribbons seems light to me. They gve faint but very readable type on the model 15 printer. The type on the model 14 typing reperf is quite light and difficult to read.
Ribbons Unlimited 33P, $11.95 plus $4.99 flat rate shipping
W2JC has paper, tape, ribbons, manuals, and more.
Baco Ribbon, +1 314 835 9300

Printing Telegraph History

Hell Feldfernschreiber teleprinter - A very clever dot matrix teleprinter. The transmit side transmitted vertically scanned pixels. The receive side uses a two turn helix to provide vertical scan and moves the paper tape to provide horizontal scan. The helix is inked by a saturated felt. A solenoid operated knife edge under the paper presses the paper to the inked helix when a pixel is to be printed. The two turn helix is very clever. Because of it, no synchronization is required between the transmitter and receiver. If the transmitter and receiver are perfectly "synchronized," the text appears on the tape as two rows of characters. If they are not synchronized, one complete line of text is on the tape with the other line split above and below the good line (it wraps from the top edge to the bottom edge). But, there is always a good line of text. If the speeds of the transmitter and receiver are slightly different, the text drifts towards the top or bottom of the tape, but a complete line is always printed. A similar printer is described at Tape Facsimilie. With the Hell Feldfernschreiber, a keyboard generates the pixel pattern while the Tape Facsimilie uses optical scanning of tape with a hand written message on the transmit side.
First-Hand:Chad is Our Most Important Product: An Engineer's Memory of Teletype Corporation by Jim Haynes. Fascinating personal history of Teletype.

Terminal Units
Software

Droid RTTY - Great Android application that transmits and receives AFSK RTTY.
Bytheway Software Development Lab (BSDL) Software Library - Software specifically written for RTTY and the BAUDOT code by K7TTY
RTTY Demodulator for Linux - Mark and space bandpass filters drive subtractor which drives a zero cross detector. Latest version also decodes packet and CW.
Linux command line to copy ITTY
curl -N -s http://internet-tty.net:8000/ITTY | lame --decode --quiet --mp3input - - | minimodem rtty -i -a -q --rx-one -R 11025 -f -
MMTTY - Teletype terminal and modem in software. Runs under Windows and drives transceiver through sound card. Also on the site is MMSTV for slow scan television
Ham Radio Deluxe - Have had several QSOs with people running this software. It appears to work well except that people rarely send CR and never send LF. Ideally people could type control-J to send line feed, but they would have to remember to do it. Don't know if that actually would send a line feed.
KiwiSDR - A software defined radio with web server that supports multiple users. Includes CW and RTTY decoding.

KiwiSDR Mapr of receivers around the world
Link to KFS (Half Moon Bay CA) KiwiSDR tuned to 20 meter RTTY autostart frequency with RTTY decoder selected

Configuring Software to send CRLF - How to configure various RTTY software to properly send carriage return and line feed to avoid overtyping on real Teletypes.